Reading and Reviewing The Selection chapter by chapter.
Let's do this.
Note: direct quotes will either be bolded or put in block quotes.
---
The chapter starts when America meets a boy and tells her:
You're the most beautiful thing I've ever seen.
Like, seriously? I hate when YA novels exaggerate the romance by using phrases like these. It's unrealistic and I'd say:  Probably haven't looked enough, boy. Because we're talking of a boy less than 20 years, who has no experience of what love really is and things like 'you're the most beautiful thing' or 'I can't imagine life without you' seems meaningless.
So, America has a boyfriend who's name is Aspen and smells like his mother's handmade soap (like, that's not weird enough) and wears the same clothes almost every day and has this smile that makes you think he has a secret. What not to love about him? I think Cass here tries to portray Aspen as every girl's fantasy: dark, brooding and mysterious, but I don't think it works. At least not for me.
Aspen was a Six. Sixes were servants and only a step up from Sevens in that they were better educated and trained for indoor work.
So, Aspen is a Six. And a Seven is…? The toilet cleaning guys?
Level of Aspen's weirdness : 7 out of 10
Ohh and I also need to put liar in America's characteristics lists. Still haven't understand why she lied to her parents about him and play the whole I'm-not-beautiful-enough-to-have-a-boyfriend act.
Moving on, we realize that Selection is a big deal with the poor families and they all want their sisters to participate so they may have a chance of a better future, which sounds reasonable for everyone except American of course.  So, Aspen tries to put some sense into her head and persuade her to enter the competition, but I honestly don't think that he has to try very hard. We all know how it'll end, but I'm curious to see how she'll accept.
If I had to choose between sleeping in a palace with people waiting on me or the three-room apartment with Aspen's family, which one did I really want?
Ohhh, I knew it! Didn't I tell you that her resistance is weak? But, I never imagined to be soo weak.
Percent of resistance: 60 %
TWO PARAGRAPHS LATER:
"Please?" he breathed into my ear. The feeling sent chills down my body.
"Fine," I whispered. "I'll do it. But know now that I don't want to be some princess. All I want is to be your wife."
SERIOUSLY? ARE YOU FUCKING KIDDING ME?  I want to punch her in the face, NOW!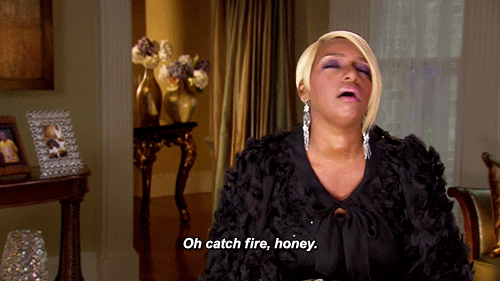 Let's revise America's characteristics:
annoying
stubborn

liar

inconsistent
Still don't like it. I think it's getting worse.